The Legendary Nelson Bros. Bakery
Get Your Sweet Baker's Dozen Deal Today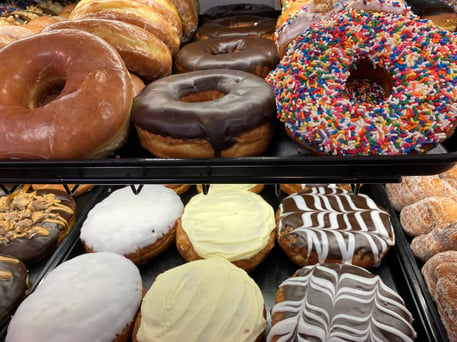 There's something special about a small town, local bakery. Nelson Bros. Bakery in Clearwater is no exception. Rows and rows of sweet, decadent bakery treats lined up beneath glass cases … it's an iconic image sure to make you nostalgic. For over 40 years, we've been proud to be Clearwater's hometown bakery, and meet the sweet needs of millions of travelers and folks passing through.
Our handmade, baked fresh daily offerings include donuts, sweet rolls, filled pastries and bismarks, cookies, muffins, pies, homemade fudge and candy, and our proprietary Fritter Bread. With donuts the size of your head, it's hard not to feel like a kid again when you visit Nelson Bros. Bakery! Our Fritter Bread loaves are available in six flavors: raspberry, apple, blueberry, cinnamon, and seasonal flavors strawberry rhubarb and caramel apple.

Homemade Pies
Classic, comforting flavors of our homemade 9" pies include:
- Apple
-Dutch Apple
- Coconut Cream
- Banana Cream
- French Silk
- Caramel Pecan French Silk
-Pumpkin

(

seasonal: available Oct-Dec

)

- Pumpkin Cream Cheese (seasonal: available Oct-Dec)
- Sour Cream Raisin
- Strawberry Rhubarb
- Pecan
- Wildberry
- Strawberry Cream Cheese (seasonal: available June - Aug)
Fritter Breads
| | |
| --- | --- |
| - Apple | - Blueberry |
| - Cinnamon | - Raspberry |
| - Seasonal | |
Orders placed

before

Noon

are available for pick-up

3pm

the next day. All other orders will be processed within 2 business days.
Pick up a dozen bakery treats and get one free on all of our Nelson Bros. Bakery items.