Nelson Bros. in Clearwater is Home
Life moves fast – and we should know. From our unique vantage point on one of Minnesota's busiest interstates, we see the frenzy, the speed, and the rushing every day. That's why it's important to encourage the slower, finer things in life. Like our local restaurant, Nelson Bros. Slow down and take it easy – our restaurant is home for our community and everyone else stopping through on their way to their destinations.

Nobody Brunches Like We Do
Our name is synonymous with world famous Fritter Bread – and we feature it as French toast. Pair it alongside a handcrafted latte or Bloody Mary for the ultimate brunch experience. Choose from our restaurant's lengthy brunch menu featuring premier omelets, twists on the comforting classics, and plenty of gluten-friendly options.

On Wednesdays, We Eat Pasta
Chef Dan has elevated our local restaurant with his take on an all-you-can eat Pasta Bar available only at Nelson Bros. in Clearwater! Piles of fresh pasta cooked hot to order paired with the highest quality seafood and meats, fresh vegetables, and handmade sauces. Make our restaurant your go-to on Wednesday nights, 5pm-8pm.

Pie Your Grandma Would Approve Of
Order it by the slice or take an entire pie home. Nelson Bros. Bakery is legendary in Central Minnesota (and beyond!) Our pies are baked fresh from scratch each day – we know Grandma would nod approvingly with each delectable bite.

Soups in a Snap – a Whole Bowl of Love
At Nelson Bros. in Clearwater we believe soup is perfect any time of day. Enjoy our famous homemade soup or chili by the cup or bowl, or bring a heartier portion size home to share with those you love. We accompany each bowl with a slice of Nelson Bros. artisan bread.

Make Friends with Donuts the Size of Your Head
Yes, we're serious. Our donuts and pastries are baked fresh daily, just as we've been doing for over 40 years. We feature sweet rolls, donuts and Bismarcks, homemade fudge, pastries, pies, muffins, and cookies. Whatever your sweet tooth is craving we have it! We always sweeten the deal with our baker's dozen special – get #13 for free on all bakery items. Bring a box or a bag of Nelson Bros. Bakery goodness with you and make new friends along the way.

Steak Another Little Piece of Your Heart Now Baby
We can't wait for you to "meat" the real hero of Nelson Bros. in Clearwater – our entrée dinner menu boasting the biggest, best cuts of choice meats. Choose from center cut sirloin, prime rib, pork prime rib, BBQ ribs, and Canadian prime steak – a Nelson Bros. "Ultimate" prime rib that clocks in at 24oz. – a must try for all!
Our Restaurant Deals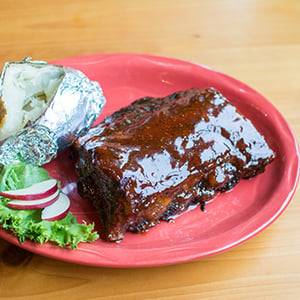 Rib-licious Monday
Full rack of ribs for $17 or a half rack for $15. Mix it up with ribs n' chicken or ribs n' shrimp for only $17.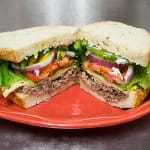 Double Stamp Tuesday
Receive double punches on Gas, Take & Bake Pizzas, Sandwiches, Specialty Coffees, & Pub Punch Cards.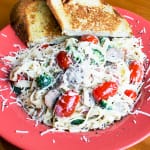 Wednesday Pasta Bar
Chef Dan's "Original" pasta bar every Wednesday from 5pm-8pm.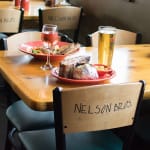 Saturday Date Night
Dinner for Two for $30 from 11am-9pm. Choose from chicken cordon blue, prime rib, pork prime rib, shrimp, ribs, or steak - includes salad & choice of potato.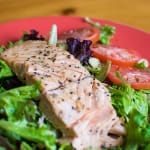 Any Day
Birthday Meal is FREE (on your Birthday) with purchase of a meal of equal or greater value.