In May of 2016, Wendy Johnson had her 30 year anniversary as an employee of Clearwater Travel Plaza. In those years, Wendy has held multiple roles within the company, built lifelong friendships with customers and staff, and played a part in shaping Clearwater Travel Plaza into the wonderful place it is today. Over the past 26 years, I've had the good fortune to work alongside Wendy, and today, I'm giving each of you the opportunity to get to know her a little bit better, too.
5 Things You Might Not Know About Wendy Johnson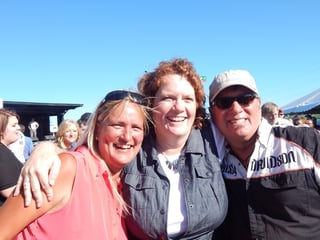 First, let me get a few things out of the way. Wendy grew up in Bloomington, MN and first came to the area as a student at St. Cloud State University. She enjoys boating, golfing, and travel, and has a 120-pound black lab named Shadow. Her favorite thing about Clearwater Travel Plaza is each of the great people she gets to be around every day - including staff and customers.
#1 Wendy wasn't looking for a job
While attending St. Cloud State University, Wendy was offered a job with Clearwater Travel Plaza, but she wasn't looking at the time. Owner Joel Nelson was persistent, and Wendy agreed to have a 20-minute chat with him. And we're so glad she did. Shortly after she started, and knowing she had found the place she wanted to build her career, she left college just five classes away from graduation.
#2 Vice President is Wendy's Fourth Position with CTP
Her first job was coordinating the opening of Section D, the original sports bar in the hotel across the street from CTP. Then, she worked in sales and personnel before becoming the General Manager and now Vice President.
#3 Wendy Leads By Example
Whether it's her work ethic or her dedication to the staff and customers of Clearwater Travel Plaza, Wendy says what she does and does what she says. One of her strongest traits is her dedication to fairness. She'll tell you upfront just how important it is to not make assumptions. To Wendy, hearing one side of a story isn't good enough. There's always more to it than first appears, and you'll be as good as wrong if you don't look at the whole situation.
#4 Wendy is Most Proud of Her Friendships
They say the people you spend the majority of your time around are a reflection of who you are. In Wendy's case, that's truer than true. At the start of each working day, you can find Wendy at the Fuel Center catching up with the regular truck drivers who've become great friends over the years. Countless customers have become very good friends who'll call if they won't be coming in when they normally do.
#5 Wendy Has Retirement Plans
Don't worry, she's not leaving Clearwater Travel Plaza anytime soon! When the time does come to retire though, Wendy plans to spend her time traveling, continuing with charity work, and helping others.
Over the years, I've come to know Wendy as a hard working, level-headed, and truly passionate individual. She's someone whose work ethic I admire, and I'm thankful to call her a co-worker and a friend.