There's nothing more irresistibly contagious than laughter and humor. Meet Chuck, a professional driver of seven years who lives by this motto. He is the type of guy who will go around third base to get to second. He leaves a positive impression on those he comes in contact with. Chuck may talk your ear off, but he'll leave you with a smile on your face, feeling great about life. Chuck has three kids, five grandkids, and calls Luck, WI "home". He appreciates the awesome landscape views he takes in while on the road. Read all about his life and appreciation for Clearwater Travel Plaza below.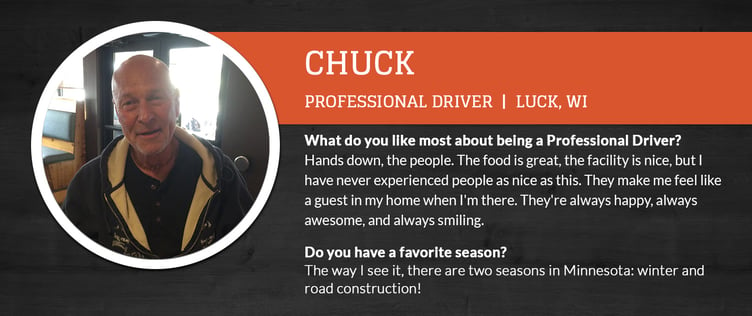 Favorite Menu Item:
Chef Dan's Original Pasta Bar on Wednesday nights. My only request is a smaller portion (I ask for a kiddie size) and then I tell the Chef to surprise me! I've never been disappointed.
What do you like most about Clearwater Travel Plaza?
The people. I live in my truck, spending hours on the road. I have yet to experience a friendlier facility than CTP. Out of habit, I always wear flip flops in the showers when I'm traveling. The CTP showers are not only spacious, but so incredibly clean where I feel at home and don't need to wear my flip flops. That's a win without explanation in my book. The food is great, the facility is nice, but I have never experienced people as nice as this. They make me feel like a guest in my home when I'm there. They're always happy, always awesome, and always smiling.
Describe a typical or memorable day.
My first stop is at the fuel island. I pop in, say "hello" to whomever is working, and visit for a bit. If I need work done on my truck, I'll check in at the Truck Center. After that, I hit up the showers, then relax in The Pub with a bite to eat. I'll typically grab a box or two to-go from the Food Court to take with me on the road. Oh, and I can't forget to stock up on the Highlander Grog coffee beans!
What do you like most about being a Professional Driver?
I really enjoy the freedom to go where I want, when I want, and have fun doing so.
What is your biggest challenge being a Professional Driver?
The "rules of the road" are probably the biggest challenge in my profession. Back in the 1960s when I took Driver's Education, the driving book was golden. Driving then compared to now is so different. There are more distractions these days, and I've seen a shift in mindset with the driving population in general from a sense of entitlement to drive a vehicle vs. driving being a privilege. I'm an advocate for safe driving down the highway, and that alone, as simple as it sounds, is an encounter I'm constantly up against.
What is your greatest satisfaction in being a Professional Driver?
I once came across the scene of an accident on the Ohio turnpike and utilized my rig to block/redirect traffic. There was something so rewarding about knowing I was able to aide in the help.
Best advice you've ever been given?
Never assume the other driver is going to do what he should.
What do you like on your pizza?
Sausage, pepperoni, and mushrooms.
Do you have a favorite season?
The way I see it, there are two seasons in Minnesota: winter and road construction!

What superhero power do you wish you had?
Super dad.
Hobbies/talents/interests:
Remodeling homes is something that I enjoy. In fact, I used to be in the business up until I started driving over the road full-time.
Who is the most influential person in your life?
My father for his work ethic and honesty.
What kind of music do you listen to?
The oldies, but goodies! Black Sabbath, Willie Nelson, Ozzy, and Eric Clapton - any music in that genre from the '70s.
What is the most incredible view you've ever seen?
There are far too many for me to list, I really find beauty everywhere, everyday. The sunrise symbolizes the start of a new day, I've seen countless breathtaking sunrises over Lake Superior, various mountains, and in Pennsylvania. The Blue Ridge Mountains of Virginia are an iconic piece of the American landscape.
If you could choose one amenity to add to CTP, what would it be?
The treatment at CTP is like no other. I really value their community involvement and how CTP is giving back. It's unheard of these days. I believe the reason CTP is so incredible is because it's evident where their priorities lie. I can't think of anything more to be added to an already amazing business.
What is a fear you are proud to have overcome?
My children's mother died when they were six, nine, and 12 years old. It taught me that life does go on. I'm actually not afraid to die, not ready, but certainly not afraid. And I'm proud of that.
What would be the title of your autobiography?
"He Did What?" (I've been known to be a loose cannon!)
What is the best piece of advice you would give to others?
Enjoy life, we are not promised tomorrow's sunrise.
One thing you have waited in line the longest for?
In the mid 1980s, I took my kids to Adventureland in Iowa, where we waited in line for rides.
What excites you the most?
My flatbed tractor trailer with rolling tarping system, I'm proud of it. There were 10" high white vinyl letters that used to display on the back of my rig which read: everyone lights up a room, some coming in, some going out - which one are you? I've since replaced it with a five-foot yellow happy face on the back of my trailer.
How many states have you traveled to?
All of the lower 48 states.


Anything else you'd like people to know?
I don't talk much (ha!) but really get enjoyment out of lighting up someone's day, one laugh at a time. When the nurse asked about my exercise program at my recent annual physical, I informed her I was running my mouth, jumping to conclusions, and my resistance training allows me to push my luck. Needless to say she giggled, and as I was leaving the VA Medical Center, I heard her sharing my joke with a few of her co-workers. It's my goal in life for moments like this, where I can brighten someone's day and leave an impact.
Chuck is quite the character. We can always count on him for a good laugh. Let us know if you're enjoying these inside stories, and we'll keep them coming.