Jim became a professional driver in 1979. He was 25 years old, working on a farm and wanting to do something different. Although it was a new industry for him, Jim got his professional driver's license and got to work. He spent nine years as a company driver before becoming an owner/operator. He currently has three trucks - his oldest grandsons drive the other two.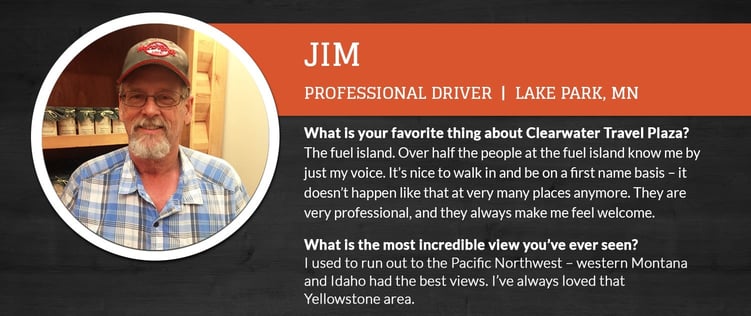 What's your favorite menu item at Clearwater Travel Plaza?
The Clearwater Original Omelet and the Gourmet Sandwich Bar's Prime Rib Sandwich.


How did you hear about the CTP?
I started stopping there in 1979 when I became a driver.

Describe a typical day at CTP:
I fuel there quite often, and sometimes use the showers – they have nice, clean showers. My schedule is usually so busy that I don't have time to sit at a restaurant, but Clearwater Travel Plaza is one exception where I do take the time to sit down and have a nice meal. The food is very good there.


What is your favorite thing about CTP?
The fuel island. Over half the people at the fuel island know me by just my voice. It's nice to walk in and be on a first name basis – it doesn't happen like that at very many places anymore. They are very professional, and they always make me feel welcome.


What do you like most about being a professional driver?
The pride I take in my work. I care about my equipment looking clean and nice, my deliveries being on time, and the products arriving in good shape. It's good, honest work, and I take a lot of pride in it.


What type of driving do you do?
I spend half the year driving over the road and half the year driving local. During the winter, I haul a reefer trailer with potatoes to Indiana and then bring groceries to North Dakota. In the summer I either haul sand and gravel for a ready mix company in Fargo or bring a grain hopper to Minneapolis and back.


What is your greatest satisfaction being a professional driver?
Getting to share what I do with my family. My son and son-in-law both drove with me; now they're both working construction. My two eldest grandsons drive with me now. That's the thing about driving, there's always work.


What's something about you others might not know?
I'm very involved with my grandsons; I have five of them. We go to NASCAR races together and we travel to Yellowstone at Christmastime to go snowmobiling.


Best advice you've ever been given?
My father taught me to always be honest and put in a hard days' work.


Favorite thing about Minnesota?
I'm a big fan of the NDSU Bison Football team.


What do you listen to when you're driving?
Mostly satellite talk radio and some country music.


Do you have any pets?
I have three Basset Hounds. They're sisters.


What is the most incredible view you've ever seen?
I used to run out to the Pacific Northwest – western Montana and Idaho had the best views. I've always loved that Yellowstone area.


What's something you wish people knew or understood about being a professional driver?
I wish they understood how many hours it involves every week and that when we're out here in traffic we're working and we want to share the road safely and respectfully. With 80k - 90k pounds behind us we can't slow down as quickly as other traffic.

Anything else you'd like people to know?
I've driven over 5.5 million miles during my professional driving career – all over the United States and a little bit into Canada.

Thanks Jim!
If you're interested in hearing from more professional drivers, you can meet Eli, Chuck, Mike, and Kevin.