In the same vein as our staff series, we're also doing a feature on Professional Drivers. Their loyalty, longevity, and presence keeps us all going. We're putting the spotlight on Kevin today.


Kevin has been a Professional Driver for 22 years. He may seem quiet, but he's full of character, charm, and has a great sense of humor. Kevin has been married to his wife for 18 years. They enjoy their quaint little piece of land in Clear Lake, and their farm animals. Read all about Kevin and what he's up to. There may even be a few things that surprise you about him.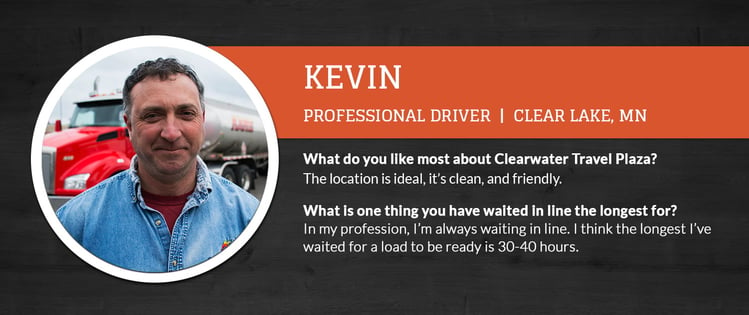 Favorite Menu Item:
Pizza.


What do you like most about Clearwater Travel Plaza?
The location is ideal, it's clean and friendly.


Describe a typical or memorable day.
A typical day is hauling fuel from Clearwater to Minneapolis 3x/day, 800 times/year. I've been doing this since June of 2002 and have hauled over 10,000 loads.


What do you like most about being a Professional Driver?
It's an independent job, and I like that.


What is your biggest challenge being a Professional Driver?
Traffic.


What is your greatest satisfaction in being a Professional Driver?
I am proud of a clean record. Two million miles and accident free is satisfying!


Fun fact about yourself that might surprise others?
I play ice hockey once a week in a local pick-up league. My mom complained when I was 15 years old about spending $200 at the time on a pair of skates. I used that pair of skates for 20+ years. If I can sneak away on Friday afternoon for the 3pm game without anyone knowing I'm out playing hockey, that's a good day to me.

What do you like on your pizza?
Sausage, I'm a one topping kind of guy.


Do you have a favorite season?
Spring – it brings optimism, everything starts over.

Favorite thing about Minnesota?
I'm an outdoor guy and enjoy the seasons.

Hobbies/talents/interests:
My wife and I (more her than me) have three horses. We go horseback riding, are members of a local saddle club, and I enjoy mounted shooting.


Who is the most influential person in your life?
My uncle Ed. I used to work with him back in the day, and he was really hard working. He was a tough old bird. He had a work ethic and stamina like no other. We worked on the farm, baling hay, milking cows, all of the dairy farm "stuff", and he always amazed me with how hard he worked, and how much energy he had.


What kind of music do you listen to?
I like Country, Country-Outlaw, and Country-Alternative music.


Do you have any pets?
A dog, three horses, two cats, and a chicken.


What is the most incredible view you've ever seen?
Fireworks over Lake Superior on top of a hill. I've never seen fireworks from that angle, looking down, and it was incredible.


What is one thing you have waited in line the longest for?
In my profession, I'm always waiting in line. I think the longest I've waited for a load to be ready is 30-40 hours.

What excites you the most?
I'm facinated with bees, they are incredible little critters. My nephew attends college at St. Cloud State University and wanted to start a beehive. He needed a place to put it, and I offered he keep it at my house. He gave me a Beekeeping for Dummies book and I've been enthralled with it. We started with a kit of 5,000 bees. In just a week's time, I've learned so much by watching them; pecking order, protecting the hive, guard bees, attendants for the queen, drones, and how every bee has a job. It's fascinating!


How many states have you traveled to?
36.


Anything else you'd like people to know?
I'm a quiet guy.

We've got more stories coming your way, just like Kevin's. Make sure to subscribe to our blogs so you don't miss out.