In this fourth installment of our professional driver series, I'd like to introduce Kris. Kris is a Central Minnesota native, and he's been a professional driver for the past 25 years. Although he's traveled to or through every state in the lower 48, his favorite way to travel is north to south and south to north. Keep reading to learn a little bit more about Kris.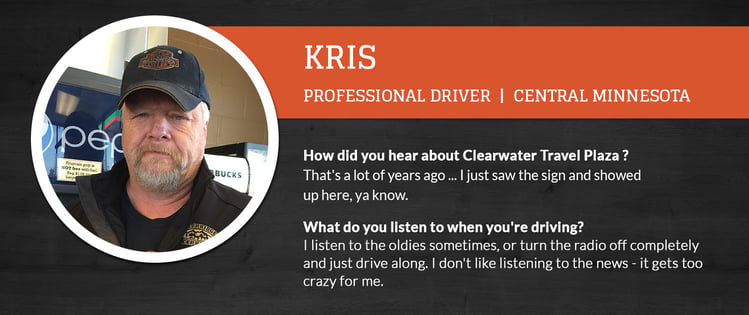 Favorite menu item:
Breakfast - that Jorge makes a mean scramble.


How did you hear about Clearwater Travel Plaza?
That's a lot of years ago ... I just saw the sign and showed up here, ya know.


Describe a typical day at Clearwater Travel Plaza:
Breakfast is great, people are really nice. It's a joy to go there because they're polite and they treat you like you're a human being.


What is your favorite thing about Clearwater Travel Plaza?
Everything is great - it really is. Showers are fantastic, and I guess the biggest thing is it's nice going to a place where ... Like Jorge, when he makes my scramblers back there, he knows exactly what I want. And Gail behind the counter, she always remembers you. Whether they like you or not, they make you feel welcome.


Fun fact about yourself that might surprise others?
I have a place out in Dallas, TX where I hunt wild boar.


What's the best advice you've ever been given?
Use common sense.


What do you like on your pizza?
Meat lovers. It's the best.


Favorite season?
I like fall because I get to go hunting and the weather starts cooling off.


Who is the most influential person in your life?
My father.


Do you have a favorite card game?
I do like to stop at the casinos once in a while. I usually prefer the smaller ones, since they're not as crowded. In fact, I own a little bit of a share in Hinckley - at least I should, considering how much I've put into the place!


What do you listen to when you're driving?
I listen to the oldies sometimes, or turn the radio off completely and just drive along. I don't like listening to the news - it gets too crazy for me.


What is the most incredible view you've ever seen?
The view I like the most is coming over the Smokey Mountains when it's storming out. When you get to the top and look over the edge, it's pure lightening bolts - it's gorgeous.


Thanks, Kris! We consider ourselves lucky to be able to share a bit of your story with everyone.
We hope you're enjoying our professional driver series as much as we are! Subscribe to our blog to make sure you don't miss the next installment.