Today's staff feature is all about Abby. Abby works as a cashier in our general store. She's been a member of the Clearwater Travel Plaza family for the past four years. Abby is a positive and energetic individual with a passion for just about anything outdoors. From hunting to music festivals, and more! If you're lucky enough to be one of Abby's regulars, you'll know she also has a great memory and an even greater sense of humor.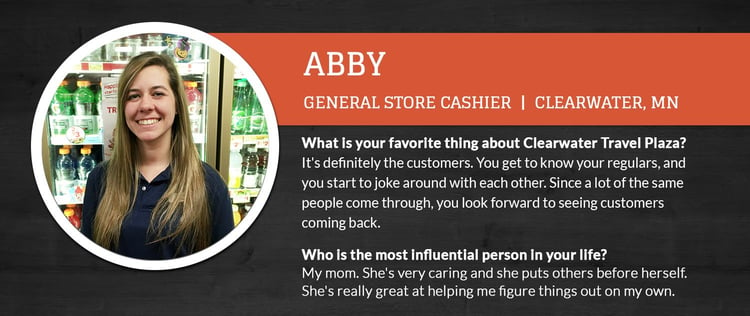 Favorite menu/food item:
All of the pasta specials. They're soooo good - especially the Wednesday night pasta bar.
What do you like on your pizza?
Chicken Bacon Ranch
Do you have a favorite season?
I love everything about fall. The temperature, the colors, the crisp air, and, of course, fall means hunting season.
What superhero power do you wish you had?
I wish I could just clap three times and make something happen.
Favorite thing about Minnesota?
Minnesota is great because we get to experience all four seasons and all the nature that comes with it.
Hobbies/talents/interests?
Hunting for deer, ducks, and geese in the fall. I love being outside, especially at music festivals - WE Fest is one of my favorites.
What kind of music do you listen to?
Country.
What is the most incredible view you've ever seen?
When I went on a family vacation to Montana, I saw some of the most incredible views. The hills in Montana are beautiful, there are waterfalls and mountains and everything.
Who is the most influential person in your life?
My mom. She's very caring and she puts others before herself. She's really great at helping me figure things out on my own.
Why did you decide to join CTP?
Before I worked here, I was a customer. Every time I came in, the employees were upbeat and friendly. There was always a fun, welcoming environment filled with really nice people.
Describe a typical day at CTP:
I cashier in the morning, meaning I run the register and complete whatever side projects need to be done - like cleaning or stocking or anything like that.
What is your favorite thing about CTP?
It's definitely the customers. You get to know your regulars, and you start to joke around with each other. Since a lot of the same people come through, you look forward to seeing customers coming back.
Do you have a favorite board or card game?
I like to play Life and Sorry.
What is the one piece of advice you would give to others about life?
Splurge on the fun stuff.
One thing you have waited in line the longest for?
When I went to the Luke Bryan Concert, I waited in the t-shirt line for what felt like forever.
What excites you the most?
Camping and going up to the cabin for weekend getaways.
Thanks Abby! I might be biased, but I truly think our staff at Clearwater Travel Plaza is the best. Each and every individual brings a little something special that makes us who we are. Next time you're at the Plaza, swing by the General Store and let Abby know you read her staff feature. If you'd like to meet a few of our other staff members, you can read the other staff features here.