Jorge is a "straight shooter", loves Minnesota for macaroni and cheese, and is all about living life to the fullest. He's dabbled in a little bit of everything at Clearwater Travel Plaza, from maintenance, to cooking, supervising, and a lot in-between. Jorge came to America from Cuba, and is beyond grateful to be here in this country. He's been married to his wife, Tammy, for 18 years. Together they have a beautiful daughter, Bella Rose. Keep reading to learn all about Jorge.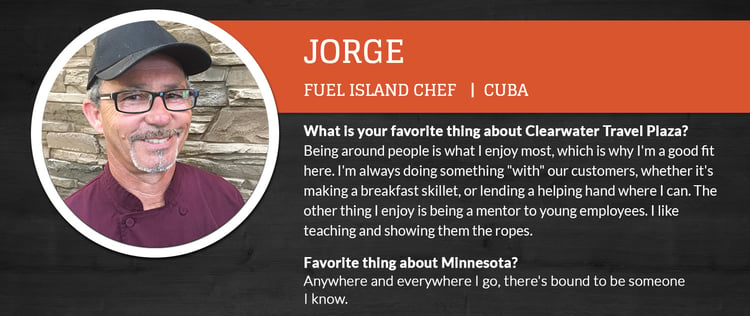 Favorite Menu Item:
I invented the Prime Rib Kicker. I've made a lot of recipes over the years, perfecting sauces from scratch, preparing flavorful dishes, and using fresh ingredients.
Why did you decide to join the Clearwater Travel Plaza team?
A friend of mine needed help, and I was up for the challenge. I joined CTP 18 years ago and have been here ever since. In the culinary industry, it's almost unheard of for a cook to stay dedicated 10 years or more to one establishment. The fact that I've been with this organization for 18 years is a remarkable testament to how CTP does so many things right, for their employees, customers, and community. They've been so good to me, I've seen what they do for people. I choose to be involved here, and they give me opportunities left and right.
How did you hear about CTP?
I came to work in Clearwater at the Dairy Queen, where I met my wife. After change in management, I decided to check out the "American place" at CTP. The rest is history.
Describe a typical or memorable day:
Every day is fun. On an average day, I see 20-30 new faces, and really enjoy meeting new people.
What is your favorite thing about CTP?
Being around people is what I enjoy most, which is why I'm a good fit here. I'm always doing something "with" our customers, whether it's making a breakfast skillet or lending a helping hand where I can. The other thing I enjoy is being a mentor to young employees. I like teaching and showing them the ropes.
Fun fact about yourself that might surprise others?
I'm a jokester! There's not too much I hide, a pretty open book.
Favorite quote?
"How you doin?!"
What do you like on your pizza?
Supreme, hold the mushrooms. Sidenote: I don't like spicy food, jalapenos or other foods like that. In Cuba, food is packed with flavor, which is what I enjoy.
Do you have a favorite season?
The beautiful and cool fall weather. I enjoy being outdoors landscaping, flower gardening, fishing, and golfing.
What superhero power do you wish you had?
Superman! I'm an 80's boy, I love everything about that era. There was a sense of pride in people in all that was done back then.
Favorite thing about Minnesota?
Anywhere and everywhere I go, there's bound to be someone I know.
Hobbies/talents/interests:
I like to think of myself as a simple man. I love to BBQ. Baseball, landscaping, being outdoors and around people make me happy.
Who is the most influential person in your life?
I look up to Joel Nelson in more ways than one. He's shown me patience, true character, and has really guided me. I'm most grateful for his religous beliefs which he has allowed me to learn and experience with him. He's my "go-to guy", a true friend.
What kind of music do you listen to?
Country and '80s.
What other languages do you speak?
Fluent spanish.
Do you have any pets?
We have two dogs, Benny and Lucy, a cat named Luna, and Amber our guinea pig.
What is the most incredible view you've ever seen?
The most amazing view was at Yellowstone National Park, seeing Old Faithful. I studied American history, and being able to experiece the scenery there was incredible. On top of it, I was there with my wife on our honeymoon. Out west is God's country.
If you could choose one amenity to add to CTP, what would it be?
A bowling alley!

What is a fear you are proud to have overcome?
I left my family when I was 17 years old, which was incredibly difficult. I came to America and am proud to have lived, stayed here, and it's a place I now call home. On another note, I'm afraid of heights, and not sure if it's something I'll ever overcome.
Have you ever met anyone famous?
Tony Alva, Rascal Flatts, Flip Saunders, Jason Davis, and Chuck Foreman to name a few.

What would be the title of your autobiography?
"Coming to America" or "All My Life in America".
Do you have a favorite board or card game?
Texas Hold'Em, pool, ping-pong, and 500.
What is one thing you have waited in line the longest for?
Renewing my driver's license once took over two hours. It sure was an experience that tested my patience.
What is one piece of advice you would give others?
Be good to others.
What excites you the most?
My daughter.


Jorge is the jack of all trades, and a man we are proud to have on our side at Clearwater Travel Plaza. He's someone we can always count on. Seek him out the next time you stop in to see us, he may teach you a thing or two, and will certainly leave you with a smile for the day.