Golf for Hope 2019 will take place on September 13, 2019.
Last year, thanks to our incredible sponsors and participants, our Golf For Hope event raised $13,200 for the CentraCare Health Foundation and Breast Center. In total, from the nine events we've held, we've been able to raise over $100,000! We're excited to continue to add to that total and hope to see this year be a record breaker!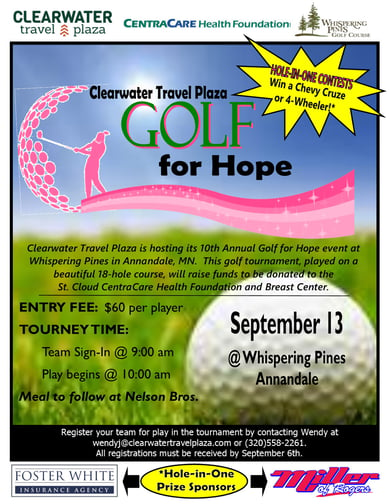 This year's event takes place at Whispering Pines Golf Course in Annandale, Minn. The entry fee is $60.00 per player, and team sign-in starts at 9:00 a.m. Play begins at 10:00 a.m. A complimentary dinner will take place following the event.
Not only do you have a day of golf and a good meal to look forward to, but if you're lucky, you also have a chance to win some awesome prizes! We are excited to announce our two Hole-In-One Sponsors:
Foster White: Four-Wheeler
Miller Chevrolet Rogers: Chevy Cruz
We are also offering sponsorship opportunities at two levels. 100% of all sponsorship dollars will go directly to the CentraCare Health Foundation and Breast Center. Your company will also receive a receipt directly from CentraCare Health Foundation for tax purposes. The deadline is September 6, 2019, for anyone interested in sponsoring a hole or being a major sponsor.
We are very excited to once again raise money for a great cause, and we hope you will join us!
If you have any questions, please contact Wendy (wendyj@clearwatertravelplaza.com).