Depending on the type of driving you do, you might be home every night or away for weeksat a time. You might drive the same line haul daily, or you might take some of the most scenic routes the continental United States has to offer.
While it seems there are as many routes as there are drivers, no matter your distance or your destination, it's important to keep yourself operating at full potential.
Professional Driver Tips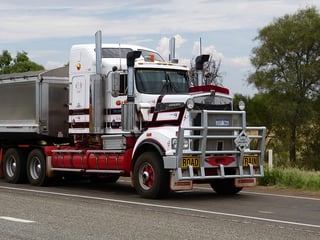 Staying mindful and adding a little upfront planning to your routine can turn any length of run into a comfortable experience. Next time you're gearing up for a long haul, keep the following tips in mind. By following even a few of these tips, your mind and your body will thank you.
Stay hydrated
Our bodies are primarily made up of water, and when we're dehydrated, the effects can be similar of that of being under the influence of alcohol. Although it can be tempting to forgo hydration in favor of making less frequent stops, remember your body needs a minimum of 64 ounces of water daily.
Avoid large doses of caffeine
No one will argue the importance of staying alert and aware while driving. This can have professional drivers reaching for caffeine-rich coffee, soda, and energy drinks on a regular basis. According to the Mayo Clinic, 400 milligrams of caffeine is safe for the majority of healthy adults. That's the caffeine amount in four cups of brewed coffee, 10 cans of cola, or two energy drinks or shots.
Fuel your body with healthy options
Maintaining a nutritious and delicious diet is difficult for many people, and professional drivers have extra obstacles in their way. Pay attention to portion sizes and stock your cab with healthy snacks like fruits and vegetables, nuts, and other clean snacks.
Get exercise
Professional drivers need movement and exercise just as much as anybody else. Our bodies are meant to move, and maintaining mobility isn't too easy from your cab. Take advantage of every stop by making time to stretch, flex, and take a brief walk.
Pay attention to your exhaustion
While the impulse may be to always be pushing it to the maximum, remember your body requires rest in order to function properly. Not getting enough sleep can make you less alert and more irritable – a dangerous combination for anyone.
Talk to friends and family
Making time to communicate with friends and family is just as important as getting enough water and eating healthy foods. Use that smartphone to stay connected to loved ones and friends alike. Send a text or a joke or a funny picture – I bet they'll love hearing from you.
Laugh
No matter what, find time to do small activities that bring you joy. Whether it's listening to a favorite comedian's standup routine, following a popular podcast, or extending a truck stop visit just a little longer than needed. Remember, laughter is the best medicine.
Keeping Professional Drivers Healthy
By following some (or all!) of the tips laid out here, you can receive any number of benefits: healthy muscles, increased stamina, boosted energy levels, better sleep, and reduced stress. What it really comes down to is balancing your physical and emotional needs. Follow these tips if you're driving for long periods of time to be a safe, productive driver.