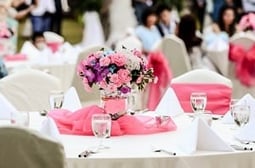 When it comes to weddings, food makes up a large portion of the wedding budget. The nice thing about having an outdoor reception for your wedding is many times you can pick and choose how and what you want to serve at your reception. Typically with outdoor receptions, you are able to hire a caterer of your choosing giving you more options to pick from.
In an effort to make your outdoor wedding reception stand out to your guests (aside from the décor and special moments you share with your loved ones), the food you serve can make a big impact. Here are some great outdoor food options for your big day:
Appetizers
Appetizers at a wedding are almost always a must. With the day starting early and emotions running high, it's nice to give guests a little snack before dinner. Some great and fuss-free options are rolled sandwiches or jumbo shrimp cocktails for those who are a fan of seafood. If you want to take advantage of the summer season, fresh fruit and vegetable trays are also refreshing and perfect for snacking. For appetizers, think of items that are small and will satisfy a grumbling stomach but won't fill guests up. You don't want them to get too full and not be hungry for the main meal.
Build-Your-Own Sandwich Bar & Pasta Bar
Who doesn't like to customize their food? With a build-your-own sandwich bar guests can do just that! Having a customizable option is great because, let's be honest, not everyone likes to eat the same thing. This option is easy and if guests can create a sandwich they like, they'll be happy and satisfied the rest of the evening. Pasta bars are also a wedding favorite. Most people enjoy pasta, and with the warm weather, the number of pasta salads you can create for your outdoor wedding reception is endless.
Buffet
You can never go wrong with a buffet at your wedding. It's typically cheaper than paying for each plate, and with a buffet, people can pick and choose what they would like to eat. Some great buffet entrée options for your wedding include stuffed chicken breasts, carved roasted turkey, prime rib, or beef tenderloin. Another great buffet idea if your wedding reception is more casual is a picnic style buffet. This buffet includes more casual entrée items like pulled pork or chicken sandwiches, burgers and brats, or grilled chicken sandwiches.
Planning a wedding is a lot of work but having an idea of what you want for food can be a major stress relief. We hope these outdoor wedding reception food options will help you in planning your big day, and to make planning your wedding reception menu a little easier. Here are a few tips to keep in mind:
Consider your wedding's theme when thinking about what food you would like to serve.
Take time to look around at a number of different caterers to see who can meet your needs and who you can afford.
Have an understanding of the layout of your reception area so you can inform your caterer where they will be able to set up.
Don't hesitate to ask you caterer questions or share your suggestions – their goal is to make your day the best it can be.