Deciding on a career path comes more easily for some than others. After all, whatever you choose as a career has an impact on many areas of your life: your income, your family, your friendships, your experiences, and your opportunities are all partially shaped by whatever it is you decide to do with your life.
What an exciting opportunity we all have! There's a massive world of possibility out there, and you have the ability to decide the right path and the right career for you.

Reasons drivers choose the profession
I'm a firm believer that there's something out there for everyone, and the key is just finding whatever it is. I work, interact, and communicate with professional drivers on a regular basis, and I've learned they can be some of the most joyful, well-traveled, and successful individuals out of anybody. There are many reasons drivers choose this profession, and here are a few of the major ones.


1. Owners and Employees
Many outside the professional might not know how much freedom comes along with being a professional driver. Drivers oftentimes bring their children, pets, spouses, and friends join them on routes.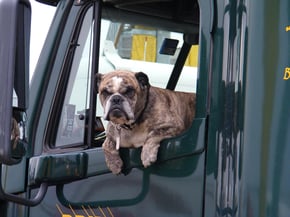 Some professional drivers are entrepreneurs who run their own businesses. What's usually referred to as an "owner/operator" is a driver who owns their truck and makes their own business decisions. It's just as common to work for an owner/operator or a hauling company as well.


2. Line Haul and Over the Road
Many people are surprised to learn a professional driver can be home each and every night and weekend. In fact, the professional driving industry is so diverse, there are routes as short as a few hours, as long as a few weeks, and everything in-between.


3. Earnings and Opportunities
The average professional driver can earn a salary of 40,000 dollars during their first year. When compared against other careers with similar education and training requirements, it's a relatively high starting wage. Drivers also have the opportunity to visit many areas of the country and interact with individuals from all walks of life.

4. Supporting our Economy
There are a lot of great things about choosing a career in professional driving. One benefit is the valuable role professional drivers play in the U.S. economy. Professional drivers are a vital piece of our economy's supply chain. Without them, our grocery stores, pharmacies, department stores, and car dealerships would all be empty. Professional drivers are the reason we have access to the majority of our consumer goods. If those wheels aren't moving, neither is the U.S. economy.


The Value of a Career in Professional Driving
There is so much value in professional driving as a career that it's difficult to squeeze into one post. If you're interested in learning more, check out our Professional Driver Series where we interview professional drivers about anything and everything.