In continuation of our Professional Drivers series feature, Mike is in the limelight today. He's been married for 26 years, is a down-to earth guy, and known to be the life of the party. Mike has been an independent professional driver for 16 years. Read all about Mike and his story below.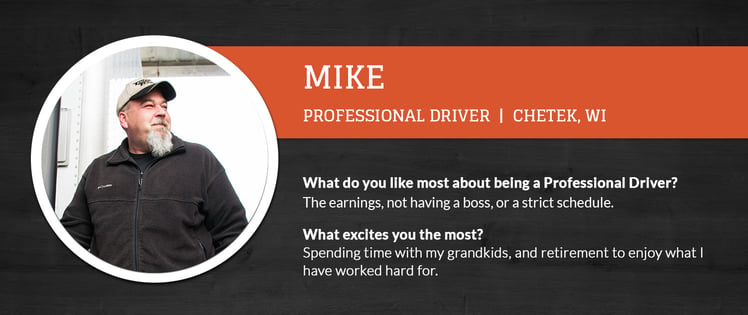 Favorite Menu Item:
It's a toss-up between the Wild Rice Breakfast Burrito or a Deli Sandwich.

What do you like most about Clearwater Travel Plaza?
The people, food, and parking lot.
Describe a typical or memorable day.
If I'm on my way up to Fargo, I usually stop for fuel and coffee. When I'm on my way back through, I usually eat and take a quick nap, it can vary based on how much time I have to get back on the road.
What do you like most about being a Professional Driver?
The earnings, not having a boss, or a strict schedule.
What is your biggest challenge being a Professional Driver?
Expenses for maintenance on tires, repairs, oil changes, etc.
What is your greatest satisfaction in being a Professional Driver?
I feel like I'm compensated for the sacrifices to be away from home, earning a living.
Fun fact about yourself that might surprise others?
I restore and preserve old wood boats from the 1960s. I've worked on three thus far. The "bright work" is tough, but the outcome is rewarding.
Favorite quote?
"If you hoot with the owls at night, you can't soar with the eagles the next day."
What do you like on your pizza?
Pepperoni and sausage.
Do you have a favorite season?
Fall - my allergies aren't as bad in the cool weather.


Favorite thing about Minnesota?
The Minnesota Twins.
What superhero power do you wish you had?
Ironman, I really like Robert Downey Jr.
Hobbies/talents/interests:
Restoring old boats (see fun fact above).
What kind of music do you listen to?
I like the Octane channel on SiriusXM, it's a good mix of modern/alternative hard rock.
What is the most incredible view you've ever seen?
The Colosseum in Rome, the architecture and history really intrigues me. I took a family trip there in 2008, and it allowed me to appreciate the construction of that era.
What is a fear you are proud to have overcome?
It's not something that I've conquered, but black ice during the winter is something that gives me anxiety. I've learned to slow down and be patient, but not having control in those weather conditions gives me an uneasy feeling.
What would be the title of your autobiography?
The Life of the Party.
Have you ever met anyone famous?
A few that come to mind are: Gerald Ford, George W. Bush, and Dale Earnhardt Sr.
What is the best piece of advice you would give to others?
Don't be envious of others; if there's something you want, work for it and earn it.
One thing you have waited in line the longest for?
Back in the 80s, my buddies and I waited a whole day in line for concert tickets.
What excites you the most?
Spending time with my grandkids, and retirement to enjoy what I have worked hard for.
How many states have you traveled to?
48 - the two I haven't been to are Hawaii and Alaska.


I hope you are enjoying these stories as much as we are. There are more on the horizon, just like Mike's, that will be posted soon. Never miss out on our updates by subscribing to our blog.