As you know, we're all about our people here at Clearwater Travel Plaza. They're the faces behind our name, and they wear it proud. We're giving you a chance to get to know some of our staff in a series of blogs. You'll learn tidbits, facts, and interesting information about the faces that serve you, always with a smile. We'll start with one staff member who has been a part of the Clearwater Travel Plaza (CTP) team for 38 years. Yes, you read that correctly. What a legacy!
Karen is married to her husband, Jerry, of 31 years. Ironically, the two met at Clearwater Travel Plaza when he was working as a pump jockey! They now have three kids and one grandson. Karen proudly plays the role of a godmother, aunt, wife, mom, grandma, and sister. She's full of passion, honesty, dignity, and has a generous heart. Get to know Karen by reading all about her below.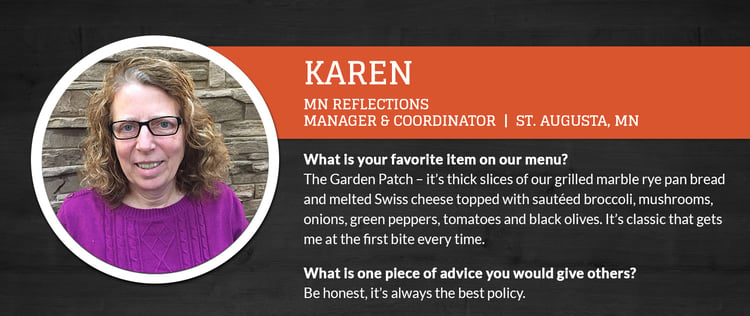 Favorite Menu Item:
It's changed over the years with the different menu offerings, but I'd have to say the Garden Patch – it's thick slices of our grilled marble rye pan bread and melted Swiss cheese topped with sautéed broccoli, mushrooms, onions, green peppers, tomatoes, and black olives. It's a classic that gets me at the first bite, every time.
Why did you decide to join the Clearwater Travel Plaza team?
When I started here 38 years ago, jobs were hard to find. Back in the day, the mentality was "when you found a good job you didn't screw up because you may not find another one". I take pride in my time here; it's my home, and I take ownership in so much of what happens here.
How did you hear about CTP?
Back in '76, everyone talked about the "big truck stop" in Clearwater. At that time, I-94 was just being constructed, and it was what everyone talked about. I had friends who worked here. Ironically, when I started, I was really quiet and shy. I found out years later the management team had a discussion (without my knowledge) to put me on a week trial because they didn't think it was going to work out for me to stay. It's crazy how things work out.
Describe a typical or memorable day:
There are too many of those "remember when that happened" memories to keep track of. There's not one in particular that stands out; rather, it's the people that I meet here. Between babies and marriage, I tell my family stories about what happened during my day at work all the time.
What is your favorite thing about CTP?
My favorite thing is what we offer people. From the made-from-scratch restaurant items to fuel and everything in-between. As I traveled, I thought these places (like CTP) were all over; only to discover that there aren't many one-stop shops like this. It's hard for other places to measure up.
Fun fact about yourself that might surprise others?
Believe it or not, I talk too much!
Favorite quote?
"Everybody has a story".
Best advice you've ever been given?
When I interviewed here and was asked about my work experience, I got nervous and didn't think I would get the job because I didn't have any. I was told "well then, you won't have any bad habits". That advice made a lot of sense to me at that time.
What do you like on your pizza?
My favorite is Canadian bacon and pineapple.
What superhero power do you wish you had?
I'd make everyone happy.
Favorite thing about Minnesota?
I love the weather and how distinctive our seasons are. Fall is my favorite; sweatshirt weather, and the change of colors. I really enjoy boating, biking, camping, canoeing, and all sorts of outdoor activities. I can't imagine not having the cold or warm contrast.
Hobbies/talents/interests:
Family time and my grandson are at the top of my list. Otherwise, I enjoy creating photo books, sewing, reading, and anything outdoors (see above question).
Who is the most influential person in your life?
A lady by the name of Marty. She was so positive, talked a lot, and stood up for what she thought was right. She was unafraid of what others might say about her. She actually worked for me in the gift shop until she was 80 and had so much spunk, traveled, and always wanted to hear people's stories. She's since passed on now, but has rubbed off on me a little bit, and it's something I'm proud of.
What kind of music do you listen to?
I'm a Christian country girl at heart.
If you could choose one amenity to add to Clearwater Travel Plaza, what would it be?
A play area for the kiddos! After long rides in the car, it would be great to offer a place for them to run, exercise, burn off some energy, and stretch before getting back into the car.
What is a fear you are most proud to have overcome?
I used to be uncomfortable talking to people that I didn't know. (see fun fact above)
What would be the title of your autobiography?
I am blessed.
Do you have a favorite board or card game?
I love playing cards with my family. The conversations around the table are priceless. When my kids are home, I get a "feel good" feeling that I've done something right. Some of my favorite card games include: 500, Fox, and Instant Cardiac.
What is one piece of advice you would give others?
Be honest, it's always the best policy.
What is one thing you have waited in line the longest for?
The rides at Disney in 1999 on a family trip.
What excites you the most?
My family.

We'll be featuring more stories like this in some upcoming blog posts. Be sure to subscribe so you're always in the know about fun facts, stories, events, news, and much more.