As our maintenance guru, Ron keeps things running smoothly at Clearwater Travel Plaza. He makes sure everything is kept in tip-top shape. Don't let him try and fool you with his quiet nature. Ron is laid-back, enjoys country life, and family time. Read on about Ron...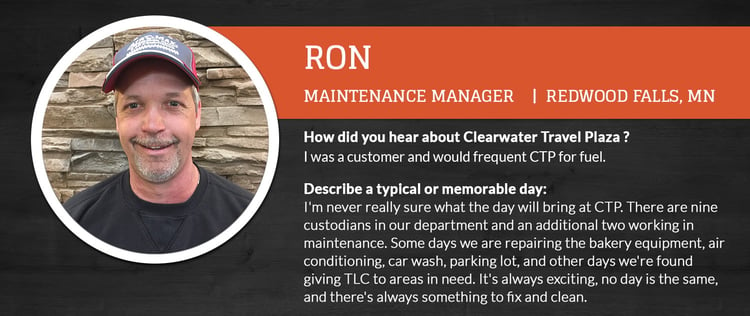 Favorite Menu Item:
Garlic Delight Burger - A garlic lover's dream. A delicious 1/3 lb. burger is smothered in melted Mozzarella cheese with sautéed spinach, garlic, diced red onions, and tomatoes. Just to add a little more garlic, it's served on our garlic Mozzarella bun. It's packed with flavor.
How did you hear about Clearwater Travel Plaza (CTP)?
I was a customer and would frequent CTP for fuel.
Describe a typical or memorable day:
I'm never really sure what the day will bring at CTP. There are nine custodians in our department and an additional two working in maintenance. Some days we are repairing the bakery equipment, air conditioning, car wash, parking lot, and other days we're found giving TLC to areas in need. It's always exciting, no day is the same, and there's always something to fix and clean.
What is your favorite thing about CTP?
The people, including customers and co-workers.
Fun fact about yourself that might surprise others?
I can juggle.
What do you like on your pizza?
My favorite is Hawaiian - traditional red sauce, double Canadian bacon, pineapple, and Mozzarella cheese blend.
Do you have a favorite season?
Garlic and onion powder!
What superhero power do you wish you had?
I've always liked Popeye.
Favorite thing about Minnesota?
The season changes are pleasant, my favorite being fall.
Hobbies/talents/interests:
I enjoy hunting, fishing, and gardening.
Who is the most influential person in your life?
My dad was a John Deere salesman who also owned a bar, grocery store, and a farm. He retired young, with his fingers in everything. I appreciated his spiritual belief, loyalty, humbleness, and how he helped people.


What kind of music do you listen to?
Country music.
Do you have any pets?
We have a dog named Lady, wildlife on the farm, and our cats, Pepper and Shadow.
What is the most incredible view you've ever seen?
I've seen some pretty incredible wood machinery and cabinet shops in my lifetime. Of all the views I like the most, Lake Superior is my favorite. I've got some great memories from childhood trips there.
If you could choose one amenity to add to CTP, what would it be?
I would add a bait or liquor store, then we'd really have it all.

What is a fear you are proud to have overcome?
I quit smoking two years ago.
Have you ever met anyone famous?
Kevin Garnett, Flip Saunders, Jesse Ventura, and too many football and Minnesota Twins players to remember.
What would be the title of your autobiography?
"Focus".
Do you have a favorite board or card game?
Monopoly, Uno, and Rummy Cube.
What is one thing you have waited in line the longest for?
A heater for my fish house at Shopko. I ended up taking a rain check, due to it being out of stock, and after several visits to the store later, finally got to take one home.
What is one piece of advice you would give others?
Be positive.
What excites you the most?
My grandchildren. Also, family time together. We actually celebrate Christmas in the summer, it works well for all of us, especially so the kids can be outdoors.


We've had a ball with this feature series, allowing you to get to know our staff and professional drivers. Be sure to let us know if there are compelling topics or people you crave to know more about.