Tick, tock. Every minute counts. Optimizing efficiency is our forte. Our full-service facility offers our professional drivers the best of the best. We recognize there are other options available. Today we're taking a look at a friendly comparison: us vs. them. I'm fairly certain you're aware of who "they" are. Just in case you need a hint, one includes a five-letter word and accompanies a red and yellow and logo.
A Friendly Competitor Analysis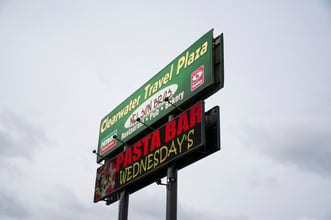 Let's not waste time and get right into the differences. I have to admit; we are partial to our professional drivers. You'll recognize this from the moment your feet hit the pavement at Clearwater Travel Plaza. It's also apparent in our offerings.
Here's a friendly analysis of common amenities typically found at truck stops.
| | | |
| --- | --- | --- |
| | CWTP | The Others |
| Food | Home cooked, made fresh | Fast food, chain restaurants |
| Parking | Always available | Reservations may be required |
| Showers | Free with fuel purchase | Credits or payment needed |
| Lounge & Laundry | Drivers' lounge & laundromat | Dependent on location and size |
| Fuel Center | Distinct from 4-wheel traffic | 18-wheelers and cars use the same pumps |
| Internet | Free WiFi, all the time | Limited availability |
These benefits we provide far outweigh a big, flashy name. Uniqueness and familiarity set us apart from the rest. We know this makes an impact on your decision on where to rest, recharge, replenish, and refuel. It's like that familiar phrase goes, "you get what you pay for". It's certainly no different at CWTP. You're not paying for our name; though we are proud of it.
Beyond the Amenities
We provide beyond the essentials. Why? Because we know that you're away from home and deserve convenience, comfort, and a place that feels like home. The challenges that professional drivers face each day cannot be underestimated. Our role is to serve you with an exceptional, high quality, and memorable experience each time you visit.
Our family focus, friendly faces, and fresh food are favorable in more ways than one. We acknowledge you by name, not just as "another customer." And if at any time you feel otherwise, we want to hear about it. Your time is valuable, and it's our job and privilege to give you an experience you deserve.