What's the difference between good enough and getting what you really want? I think it's about quality vs. cost. There's nothing wrong with making decisions with cost as your main deciding factor, and there's also nothing wrong with making decisions based on quality. Both are perfectly normal ways to go about making decisions about goods and services. But, they are two separate approaches with separate outcomes.

Professional Drivers Deserve Quality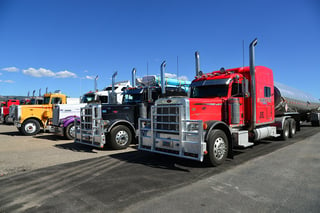 At Clearwater Travel Plaza, it's no secret where we stand on the quality vs. cost conversation. We've grown to understand the value in getting past "good enough" and we truly believe our professional drivers deserve quality goods, services, and amenities. To outline our commitment to quality, I've outlined four specific ways we put quality first.


1. Truck Stop Showers
The truck stop showers at Clearwater Travel Plaza are nothing close to average. They're clean, spacious and private. Their design means you don't have to worry about your clothes and property while you enjoy a nice, hot shower.


2. Professional Driver's Lounge
Our professional driver's lounge is enjoyed by line haulers, over the roaders, and everyone in-between. It's a place to unwind, stretch out, and put your feet up. Our lounge includes:
A 52-inch plasma TV
Free WIFI access
Food delivery from Nelson Bros.


3. Available Services
We want our professional drivers to think about Clearwater Travel Plaza as a place they can relax, recharge, and get things done. Some of the services we provide include:
CAT scale
Fax and copy services
Mail drop
Transflo scanning
Fee free cash advances up to $300 (with fuel purchase)

4. Fuel and General Store
Our general store includes almost anything you could be looking for, from groceries and gourmet candies to children's toys and best-selling books, we've got you covered. Our fueling stations are specifically designed for the functionality and ease of professional drivers. In our lot, you won't get tangled up with any four-wheeled traffic.
Clearwater Travel Plaza Means Quality
When it comes to our professional drivers, we work to carry the products and offer the services they want and need. From our truck stop showers to our expertly designed fueling stations, we have the amenities you want at the level of quality you deserve. At Clearwater Travel Plaza, we do our best to have whatever it is you might want or need – and if we don't have something you want or need, let us know!