You know those people who are always happy, loving life, and genuinely care about others? That's our Marilyn at the Clearwater Travel Plaza. If you've had the privilege to meet her, you know exactly what I'm talking about.
Her friendliness, charisma, and helping hand are what define Marilyn. She's been a Clearwater Travel Plaza employee for 14 years. You can find her with a smile behind the Food Court counter. She's a ray of sunshine for all in her presence. She's been married for 21 years to her husband, has one daughter, and is a proud grandma to one grandson (and can't wait for more).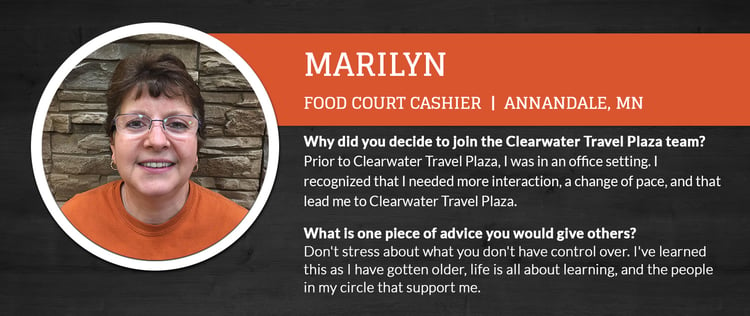 Favorite Menu Item:
Lemon Pepper Chicken Salad - made with crisp salad greens, garden ripe tomatoes, broccoli, red onions, cucumbers, and shredded American cheese topped with lightly seasoned broiled lemon pepper grilled chicken, and it's served with two slices of homemade Nelson Bros. Artisan Bread. It's my favorite all year round.
Why did you decide to join the Clearwater Travel Plaza team?
Prior to Clearwater Travel Plaza, I was in an office setting. I recognized that I needed more interaction, a change of pace, and that lead me to CTP.
How did you hear about CTP?
I drove past CTP on my way to my office job and had always been curious what it was all about.
Describe a typical or memorable day:
Every day is fun, and I genuinely mean that. I really like dressing up for the different holidays. One time for Halloween I dressed up as a Fritter Bread loaf! I'm the one with the blinking glasses, feathered boas, and festive headpieces. It brings a smile to many faces, including mine.
What is your favorite thing about CTP?
What I like most is the stories, I feel a part of people and their lives. Lots of families make a frequent stop in on their trips up north to the cabin. I've seen kids with braces on their teeth wait patiently to order a caramel apple and finally eat it without giggling. I enjoy loved ones who pick up favorite treats for special occasions, trips, or gatherings. Being a part of these memories and surprises brings me joy, and I experience the end result of happiness to others.
Fun fact about yourself that might surprise others?
I go deer hunting with my husband every year.

Do you have a nickname?
Smurf; I'm small and short.
Best advice you've ever been given?
"Live each day because you don't know what's around the corner for tomorrow."
What do you like on your pizza?
Sausage, mushrooms, and onions.
Do you have a favorite season?
Spring, there's no more cold and icy roads. It means cabin time up in Bemidji with my family. We try to take trips two times per month when the weather is warm, a week during the summer, and when deer hunting.
What superhero power do you wish you had?
Superwoman, so I could be stronger and taller!
Favorite thing about Minnesota?
I like the change of seasons, the diversity it brings out in people and their comfort zone with nature.
Hobbies/talents/interests:
Old movies and music, reading, camping, and cabin life. My husband and I are also "foodies". We like trying new foods, recipes, gadgets, and enjoy the experience together.
Who is the most influential person in your life?
My mom for her strength. She worked hard on the farm, held a job, always had a meal on the table, and never complained. I'm from a large family, with nine brothers and sisters - I'm number six in the mix.
What kind of music do you listen to?
I love the oldies, including old country, and Frank Sinatra is a favorite of mine.
Do you have any pets?
We have two cats, whom we've named Lucy Lucy and Mom Cat.
What is the most incredible view you've ever seen?
On a family adventure to Colorado, I really enjoyed the view of the mountains.
If you could choose one amenity to add to CTP, what would it be?
Although we already have the best of everything, I would add a play area for kids. It would be nice to offer them a place to play and a break from long car rides.
What is a fear you are most proud to have overcome?
I used to be afraid to drive in the Twin Cities.
Have you ever met anyone famous?
There have been quite a number of famous people who have stopped at CTP. The ones that I remember include: various newscasters, Rod Carew, Al Lindner, and Mike Max.
What would be the title of your autobiography?
One Foot in Front of the Other.
Do you have a favorite board or card game?
I love to visit and goof around with card games. Some of my favorites are Farkle, traditional dominoes, and Mexican train dominoes.
What is one piece of advice you would give others?
Don't stress about what you don't have control over. I've learned this as I have gotten older, life is all about learning, and the people in my circle who support me.
What is one thing you have waited in line the longest for?
Years ago on a trip to Cadott, WI for an outdoor music concert (much like WeFest these days) my husband and I waited almost six hours for a camping spot.
What excites you the most?
Outings with my family and hoopty-doos (fun times).
Anything else you'd like people to know?
I'm a hard worker and I help where I can.

I hope you get a chance to meet Marilyn the next time you stop in and see us the Clearwater Travel Plaza. We've got more amazing staff just like her, in fact they're all wonderful. Keep reading our blog for more great features to come.